Today is the first day of the rest of my life...as the wife of a cop!
In one of my first blogs
Change of Seasons
I alluded to the long road we have been on these, hmm...three-plus years, and my husbands desire to be a deputy sheriff. After completing night classes and training, my husband became a reserve officer last fall
(pics of him getting sworn in)
. Jessie has put in over 300 hours since last fall as a reserve officer and he has loved, I mean LOVED every minute of it! Never has he been more sure of anything, except marrying me of course. :) His passion is evident when you talk to him about his work.
The opportunity has finally come for Jessie to go on full time with the local sheriffs office. This means training starts over for him. He will head off to the academy before long for more intense training and testing than what he went through with the reserve classes. He is excited and nervous and ready! I know he will do well. I am SO proud of him for pursuing his dream wholeheartedly! He inspires me.
As Jessie begins his new venture and our family falls in line with all that entails, we are also preparing for our girls to start school. We home-schooled last year, which was a blessing in many ways. My girls are SO smart and learn so quickly! It was nice having them home with me one more year, especially while baby number three was still so new. However, trying to home school while running my business from home, nursing and caring for an infant, and taking care of a new dog...it was not an easy task. While the flexibility was very nice, we were completely burnt out! Our girls are ready for school, a classroom, a teacher, and new friends. I am excited for them! I know they will thrive in their new environment. I'm looking forward to afternoons with them, catching up on their day, helping them with any homework, and letting them play with their dolls/dollhouse together as I am sure they will miss each other after their busy day.
My husband and I have often joked that we always have big changes, at least one, each year of our marriage. Whether it is a move, a job change, a baby, a dog, a new business venture, or all of the above, there is never a dull moment in our home. So it is really difficult for me to imagine the next 25 -or so- years with my husband doing the same thing. However we will still have our side business, my full-time job. And our kids are getting to an age where they will soon be involved in sports and plenty of things to keep us extremely busy.
I have no doubt that the fun has just begun!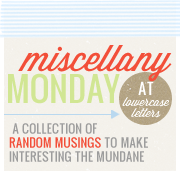 Linking up with Carissa at LowercaseLetters